Sebastian Grüner
Personal Training
Since waiting
isn't always worthwhile..
Bring it on!
You want to work on your physical fitness? I will assist you in doing so. In a joint effort, we will develop an individual training support which meets your personal needs and objectives. Professional. Efficient. And above all: With fun!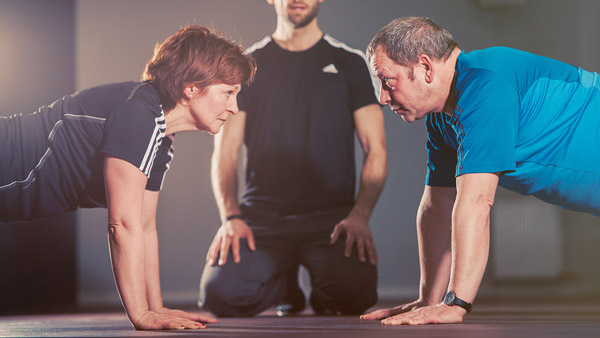 Florian Schäfer
communication designer from Berlin
"The training with Sebastian is great fun even though it sometimes is very exhausting. In his motivating way he helps me regularly to push me beyond my physical limits. By now I feel much fitter and don't have back pains anymore."
Marie-Kristin Lampe
remedial teacher, Halle
"For two years Sebastian assits me in terms of training. Initially, the goal was to lose some pounds. But after I managed this with his support my ambition was aroused. Ever since I continuously train twice a week with him. Now I especially can no longer do without the boxing training which allows me to unwind and to burn off energy."
Paula Götze
Economics, Berlin
"Due to my office job my posture noticeably changed in recent years. Especially in the neck area I was very tensed - including headache. Periodical visits to a physiotherapist were only helpful for a short period. Then I started to train with Sebastian on a regular basis. To my surprise, my posture became better very quick. Neck tension as well as headache occurred more and more seldom."
Deni Miljkovic
Fitnesstrainer, Dusseldorf
"I am lucky to be allowed to work together with Sebastian since the beginning of 2015. He took me one step further in both my training and my work. Training with him means absolute focusing and appreciation - two things which unfortunately are too often only talked about in the industry."
BENEFITS
motivation
attractiveness
fitness
health
wellbeing